Lindsay Taylor Jackson is the Producer/Director/DP of the documentary feature Velvet Citizen, still in production.  Velvet Citizen tells the extraordinary story of Jaroslav and his fearless effort to pursue his lifelong dream of sailing around the world.  Jackson was recently one of nineteen (out of 750 applicants) chosen by the American Film Institute (AFI) for the very first Cinematography Introductory Intensive for Women (CIIW). This tuition-free program was sponsored by 21st Century Fox and in partnership with The American Society of Cinematographers (ASC).

How did you get started?  
I've had a camera in my hands since I was five years old. The classical educational structure I grew up in was often not how my brain worked. I always did my homework and studied constantly, but still struggled in school. I had low self-confidence because of my test scores and what I was being told. Life through a lens was always how I studied and explored the world. I thank my younger self for following my intuition. I now recognize filmmaking as a form of intelligence. It is my outlet, my motivation, and my first love.
What do you love about the work that you do?  
I often ask myself why I love filmmaking. It's been a long road of watching my bank account drain, facing rejection until I gain more of a reputation, and lacking stability in anything long-term. However, through the stress of these challenges, I realize the set-backs are what cultivate the things I want in my life. Of course, there is a physical film at the end of each project, but I most value the things through-out the process that are non-material:  Storytelling is something that has the potential to bring interesting people around you and in front of your lens. A vision is something that everyone wants to reach together.

I have yet to meet a filmmaker who regrets pouring their scarce, fragile, and heart-driven existence into their passionate visions. I appreciate the unpredictability, always being on the go in terms of travel, and meeting new people. The thing I love most, however, is the relationships in film. As I grow older, I am starting to grasp most experiences are about the relationships. It is about finding crews you work well with and meeting subjects who share their stories. And as a Director of Photography, my favorite relationship is the one which occurs between the film's subject and my lens. It is a silent communication of a visual dance–a powerful interaction.  

What can you tell us about your time in Prague and the Czech Republic, and about Velvet Citizen?
I studied abroad at FAMU (The Film and Television School of the Academy of Performing Arts) in Prague of the Czech Republic in 2011. I submitted my photography and film portfolio, was accepted, and got on my first flight ever at the age of twenty. It was heavily academic and production-focused (which was a great experience); so, I made myself a promise at age twenty that I would return someday to explore and interact with the culture outside of a classroom and through a lens. When I returned to America, for three years I carried a 100 czk Czech Koruna bill in my wallet. That way, every day when I opened my wallet, I would see it and hold myself accountable. In my head I would say, "I am getting back there, and I am making a film."  

When I returned to Prague in 2014, I posted on a local social media page for expats asking if anyone knew of any interesting subjects for a documentary (preferably someone who had lived through the vast changes of the country's recent history). I found my subject and moved to a tiny Czech village (an hour and a half outside of Prague) by myself. Setting out to make this film gave me the foreign cultural experience I desired. Language barriers and all, it allowed me to meet some of the most incredible people I would have never met otherwise. I shot this film for about three years, basically self-funded. I would travel back and forth from Prague to shoot commercial work and meet up with friends to help me translate interview questions correctly from my broken basic Czech language attempts.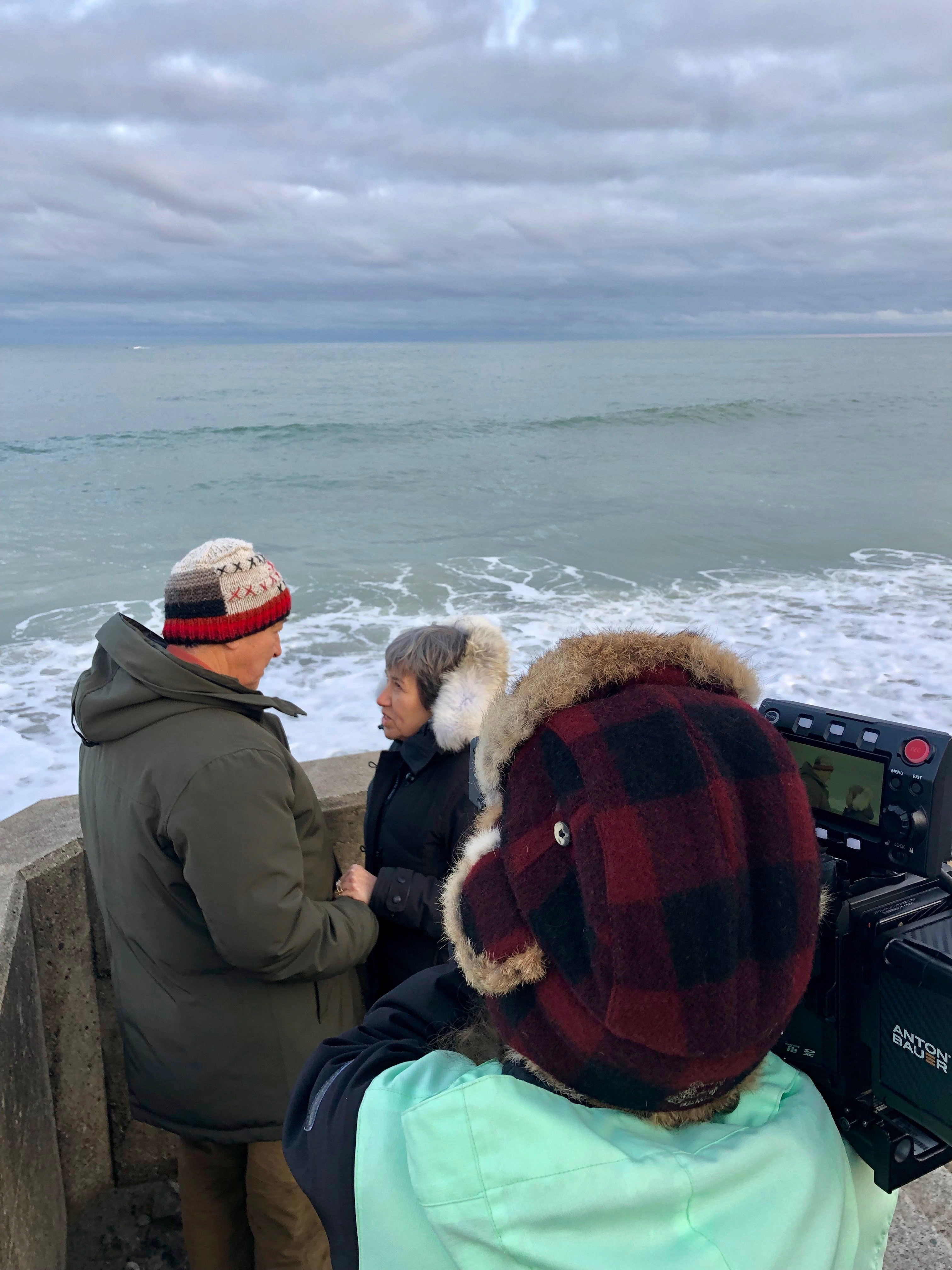 Velvet Citizen: This documentary feature film is the extraordinary story of Jaroslav and his fearless effort to pursue his lifelong dream of sailing around the world. He has spent over forty years building his boat by hand in his backyard in the landlocked country of former Czechoslovakia. Forty years ago, when he started building his boat, he was living under a harsh communist rule which allowed him very little sailing to foreign waters. He still had the hope of someday gaining the freedom to sail in these prohibited oceans. He continued to build his boat and earn the miles of his captain's license little by little during the one time of year citizens were allowed to sail in certain designated locations.

The Velvet Revolution of 1989 was the fall of Communism, which allowed the citizens of former Czechoslovakia (now the Czech Republic) to gain long-lost freedoms. Jaroslav would continue to build his boat for many more years, but with a renewed independence of reaching the once forbidden waters. The film is a beautiful story about hope, the journey to freedom, the philosophical wisdom shared with aging, and the perseverance against all odds to reach his lifelong dream of unlimited sailing.

I am the Director, Director of Photography, and Producer. I was a one-woman band, but occasionally friends would come out to help me on days they were free. It was an opportunity to prove to myself what I am capable of as a filmmaker. I knew if I could take on this challenge, then I could tackle anything in my future. I have been building a post-production crew over the last few years, and Velvet Citizen is aimed to be done this year, and the its first destination is, hopefully, the film festival circuit. Craig Mellish, ACE., will be editing the film, and there couldn't be a more promising and talented editor in my eyes. I'm grateful every day for the people this project has brought into my life.

What has your experience as a woman in the industry been like?
Starting out as a PA in film when I was in college was difficult, but it influenced a lot of my life and career choices. I faced sexual harassment from established men on an abundance of sets; they knew I would keep quiet because I was just beginning my career. Sometimes, if there was only one other woman present, I found other women could be really nasty towards me. I never understood it because we were already outnumbered, so why wouldn't we support each other? These are big reasons I wanted to take off and prove to myself what I could do. I wanted to gain more confidence and knew I deserved more respect than I was being shown.

Now, as I grow more established, I make it a point to always pull young women onto my sets. I try to empower them, teach them, and be an ally. Since I cannot go back in time and tell my younger self that I do not have to just accept sexual harassment in order to have a career, I use that energy to empower other women in film. I've developed some incredible friendships with women in film, and I, now, only surround myself with men I trust. It's important for me to be happy making work. Happiness is any time I am creating my own work, adding my creative input to projects, and any time I am learning new things. Happiness is also feeling safe, supported, supportive, and respected, and that only felt possible after I proved to myself who I could be.   

What has your experience working with Ken Burns and Florentine Films been like?
Working at Florentine Films was an incredible experience. To say it was life-altering would be an understatement. I am fortunate to have been an active participant in these larger-than-life visions. I value the education I gained, I made great connections, and it really influenced me to set off on a documentary trajectory for a few years afterwards. They have an incredible process, and I feel fortunate that I was a part of making such monumental films. I will always owe my gratitude to Ken, Craig, and the crew for giving me a chance. I will forever be structured by the artistic integrity I witnessed at Florentine Films. I am very thankful. 

Do you have a mentor?
My mentor is Craig Mellish, ACE., who is the editor for Velvet Citizen. I've always been told that every good cinematographer should learn how to edit first; and Craig (whom I assisted at Florentine Films) took the time to teach me editing. I'm appreciative that he acknowledged my potential and constantly offered (and still offers) constructive criticism. The best people in your life are the ones who constantly want you to grow and succeed.

My other mentor, from my years in college, was Jonathan Schwartz. All of my professors in college were so important and influential in my life. Jonathan's classes changed my ways of thinking. I constantly went to Jonathan's office outside of class and talked to him for a few hours every day. He helped me to understand so much about life and filmmaking and how the two could be married. They did not have to be separated, but instead celebrate each other. He helped me see the beauty in this world. He helped me to feel as a filmmaker.

Were you told or did you learn a piece of wisdom or advice you now tell others in the beginning of their career?
"It's okay to not have all of the answers right now…but you must keep trying."  Professor Jonathan Schwartz, to his students.
What are some things you wish could change/would help if more women were in the industry?
For women, I hope this shift of being heard continues. The amount of sexual harassment in the film industry (and all industries) is sickening. I think women empowering younger women and helping them understand that they have good people they can work with is important; having more groups that empower instead of intimidate is great.

Where would you like to go in your work?
Above all, I'm hoping to become the best Director of Photography that I am capable of becoming. I want to continue to work on stories that I care about. I like being extremely versatile; I shoot documentary, narrative, and experimental film, and I like to blend these styles together when I can. I shoot for others, and I shoot for myself. I enjoy collaborating and I enjoy independent projects. It is important that I am happy and feeling the best I can about what I am making. I know in the future, at times, I will shoot certain things that I do not necessarily agree with, but I will always make sure to bring as much respect as I can with my role in others' visions. I have a job to represent subjects well. My biggest goal is to always be making work.

Why are you a member of WIFVNE?
WIFVNE is a network I could join that felt safe and comfortable. Women empowering one another was the main draw for me. It is also a group where all genders want to empower women. I have met some incredible filmmakers and friends at WIFVNE events! Last year I went to see a Panasonic presentation at Talamas, and now, because of that event and introductions, I am shooting on that well-known camera for that representative. This group has brought great and supportive people into my life!